---
Sapara: We have better players than Alazinho!
26. 8. 2008
After training session on Saturday August, 9th Marek Sapara willingly answered questions about Rosenborg and also about Slovak national team. It was the time between matches against Stabæk and Molde and before e-cup match in Sweden.
Marek, you have started the third year in RBK. You know three head-coaches of the team, try to compare them.
I experienced only two: Tørum and then Hamrén. Henriksen was coaching with Tørum, yes, then alone but he just continued with the job during Tørum´s stay. Exactly we changed a style of our play. We played such a diamond 4-3-1-2. It was well suited for me. And the coach nowadays? He came as a floods. He started to change everything, all bottom up. From food, drinks, sundry tests, fat-measurements, things at trainings. He threw away everything joined to sugar. For example coffee with sugar, we could eat chocolate snacks, recovers before his come. Also these things he threw away. Drinks too, everywhere just water. Simply everything is changed.
And what about changes in style of play?
He likes to play 4-4-2 that is not typicall for Rosenborg. Especially he likes to play with two defense midfielders so I have relocated to the edge of the pitch. That means I don´t play the same position like before.
Players in the team are changing very often now. You are almost the oldest player in the team…
That´s right, I am the middle generation. When I came only young players were beeing bought. I think it is good. This team needs especially time. We are just short while together, many changes in the team, many injuries and the main eleven is different almost each match. But when we are together for longer time I think this team will be very strong!
It means you give up this league season?
We won´t be the ninth certainly, we will be higher. But the title is thanks to shape of Stabæk impossible. It will be hard.
Why do you think Stabæk won in Trondheim?
They were lucky. I don´t know – when we went to Tromsø we accented we must catch the start of the game. We manager it, we played nice 30 minutes. We also had two good opportunities but then Tromsø scored and our play was broken… Against Stabæk it was almost the same. We told to ourselves it is necessary to score the first goal. We scored in the eighth minute. We had good chaces to 2:0. These two matches were such strange, everything was vice versa. Against Tromsø we were prepared for the pressing and their hard play from the beginning. We survived during the first 30 minutes but despite we lost the first half 0:3. We score the first goal in the Stabæk-match, we have chances for other goal and they turn the match in four minutes. Also the match in Stabæk – we were not lucky, we were better but they managed to make one attack and scored. End, 1:0. We could win 0:3. We are not effective, it is the main problem. Match against Aalesund can be a good example. Even though we won 3:1 but we had another million-percent chaces. I don´t know, maybe it is spelled...
But the team qualified to the UEFA Cup. Maybe it is the priority now?
Maybe yes. We want to go to the group stage. Then we will see what teams will we play against. It is a group and one bad result can be repaired.
What is your opinion of the rival in the 2nd qual. group – Djurgården?
Good draw. I met this team two years ago in Ružomberok. We advanced against them and then we played the third round with CSKA Moscow. It was my next-to-the-last oponent in Slovakia. So I have good memories and I am looking for the matches.
You have been here for three years, you have a view of players in Norway. Can you tell one name which is the most attractive for spectators?
Alazinho from Stabæk. Maybe he is not taller than this table but he is very quick and it was possible to see during the match here.
Media is full of messages about interests from big European clubs. Is something actual now?
Any possibilities were her several weeks ago. For example before the Tromsø match. But Rosenborg said it doesn't want to let me go anywhere. The club wants to fight in the UEFA Cup and also to win the title.
I guess the team needs a striker.
Any new player is here, but I haven't remember his name. I have read it for eighth times but really I don't know it.
I know he was playing in Aalborg under Hamrèn. He is on loan and he needs to play after injury.
Maybe to buy Alazinho who you have mentioned?
I think we don't need him. Maybe he is a good player, it is OK, he is technical. But that's all. I think we have better players than he is. Just compare statistics, how many matches did he turn. He is able to tangle opponent's head, but there are two other players in his club who turn matches – Gunnarsson and Nannskog. They are in a fantastic shape. We don't need such player as he is.
Now we can go to have a look at Slovak national team. The World championship qualification is here. You will play with Greece before the qualification.
I am curious. We have a new coach – Weiss. He is the most successfull coach in Slovakia, he trained in Artmedia and in Russia in Ramenskoye. He had many successes there, they qualificatied to e-cups. But I don't know I will play for the team (the squad of Slovak nat.team was not published in the time of the interview). I know from newspapers there will be older players such as Karhan or Slovak from Slovan, Kozak from Petrzalka. So it seems like time of many changes in the team.
And what is your opinion of the qualification? We Czechs and Slovaks don't have too difficult group…
It is such regional group and I quess it will be the most interesting. I would like to keep chances to get to the World championship to the end of the group. It must be interesting especially for people. I am looking forward to play at crowded stadium. I hope our start will be good, we will play against Northern Ireland at home and then we go to Slovenia. Slovenes were not successfull in the last qualification but they have been for two years together. I don´t know what to expect…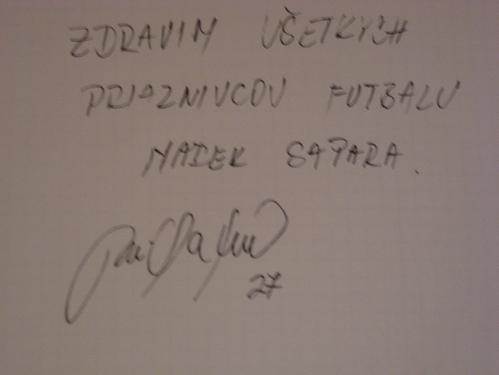 Greetings to all fans of football - MAREK SAPARA
Thank you for the interview
Jan Novotný
Komentáře
Přehled komentářů